Just as feminism's advances in the 1970s caused a backlash in the 1980s (as documented by Susan Faludi in her landmark 1991 book Backlash: The Undeclared War Against American Women), recent advances by the LGBTQIA+ community – most notably around marriage equality – have sparked a furious response by political conservatives, the religious right, and their sometimes unlikely allies.
Having lost one battle, they've started another, this time re-opening a new front on old territory by resurrecting oft-told lies about 'grooming' and 'turning kids gay' as part of a backlash against the queer community.
The 'don't say gay' bills introduced in multiple US states that recall the silencing of discussion about LGBTQIA+ issues in schools under Thatcher-era Britain's shameful Section 28; the calumnies spread by anonymous social media accounts like Libs of TikTok and amplified by Fox News; and attacks on the trans community in the UK and now Australia, are all part of the same battle: deliberate attempts to wind back hard-fought-for queer rights around the world.
Read: Taika Waititi's Our Flag Means Death nails queer representation
Often, the forces behind such attacks claim to have children's best interests at heart – ironic given
the harm their vitriol is already having
on the LGBTQIA+ community and the latest generation of queer kids.
Evidence shows that homophobia is still rife in schools: a study by Western Sydney University last year found that 90% of LGBTQIA+ students hear homophobic language at school, while almost 30% of those students said they had either witnessed or been the victims of physical harassment due to their sexuality.
Enter Heartstopper
In the light of such challenges, the arrival of the new Netflix series Heartstopper, a sweet and celebratory story about young gay love, is not only welcome but absolutely necessary – an enchanting antidote to the growing wave of anti-LGBTQIA+ hate across the Western world.
Based on the webcomic of the same name by author Alice Oseman (who is also the program's scriptwriter and producer), the UK-made Heartstopper tells the story of an unlikely romance between 15-year-old out gay nerd Charlie Spring (newcomer Joe Locke) and affable 16-year-old rugby lad Nick Nelson (Kit Connor). Minor spoilers for season one of the series follow.
Seated together in class, the pair strike up first a friendship and soon a secret romance, as Nick begins to realise his true feelings for the oft-bullied Charlie.
Read: JK Rowling betrayed us but I'll still watch Fantastic Beasts
Demonstrating the importance of supportive friends, the protagonists are supported by a diverse network of secondary characters including Elle Argent (Yasmin Finney) who transferred away from Nick and Charlie's all-boys school after coming out as trans; the over-protective film buff Tao Xu (William Gao); and young lesbian couple Tara Jones and Darcy Olsson (played by Corrina Brown and Kizzy Edgell respectively).
Antagonists include the bullying jock Harry Greene (Cormac Hyde-Corrin) and Charlie's emotionally abusive first boyfriend Ben Hope (Sebastian Croft), whose duplicitous and belittling behaviour has a lasting impact on Charlie's self-esteem.
Pitched at a younger audience than equivalent dramas Sex Education and Euphoria, and managing to be sweet but not saccharine, moving but not maudlin, Heartstopper is very much a product of Alice Oseman's background in writing Young Adult (YA) fiction.
In her own words: 'YA fiction is very focused on writing for teens and not writing about teens for adults … Euphoria, Riverdale, Sex Education – I like those shows. But they are about teens for adults. Although teens do watch them, they're written for adults, and they're designed to be watched by adults. Where Heartstopper is different is that its primary audience is teenagers – and we've written it so that it can be accessible even to young teens and tweens. Kids who are like ten or eleven can safely watch Heartstopper and enjoy it, and I think that's really valuable.'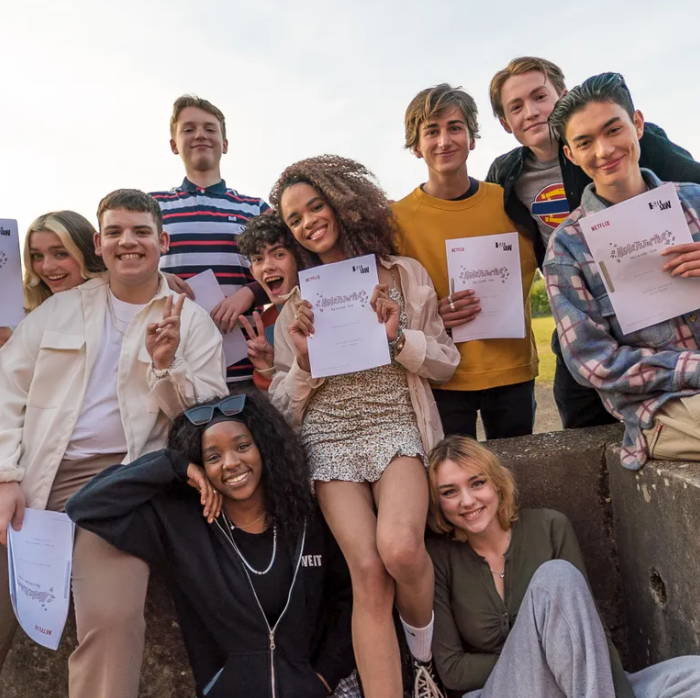 Instead of falling back on the often grim tropes of queer cinema, the dramas of Heartstopper are more domestic in scale, authentically reflective of the experiences of its target audience, but the series does not shy away from some hard emotional truths.
The psychological impacts of homophobic bullying are visited in the first season, with future seasons promising to explore the darker issues visited in additional volumes of Heartstopper (the webcomic has been collected in four graphic novels to date, with more releases planned).
Director Euros Lyn (Doctor Who, Black Mirror, His Dark Materials) ensures each episode is tightly paced and coaxes strong performances from every performer regardless of their acting experience, while dramatic flourishes – such as literal sparks appearing when Nick nervously reaches out to hold Charlie's hand for the first time – together with careful framing and cutting between perspectives and scenes reinforce the program's comic book origins without ever feeling forced or trite. Authentic casting and an intelligent exploration of bisexual identity further add to the program's strengths.
Positive and affirming depictions of young queer life have always been important; in the current climate, they are essential. As UK charity Stonewall notes: '48% of pupils have had little to no positive messaging about being LGBT+ at school in the last year. However, pupils whose schools had positive messaging about being LGBT+ also had reduced suicidal thoughts and feelings – regardless of whether they are LGBT+ or not.'
Heartstopper won't just inspire a new generation of shippers and a flood of tweets and Tumblr posts: it will literally save lives – as well as move older audiences (especially queer viewers whose secondary school experiences were challenging to say the least) to floods of tears.
What more could you want from such a joyous, inclusive and delightful television program?
Heartstopper is streaming exclusively on Netflix.