Luke Potkin is Fair Director for The Other Art Fair, heading up the Australian team. The Fair is global with events staged in Los Angeles, New York, London and Australia, and prides itself on providing a unique platform for individual artists to connect with new audiences, from art enthusiasts to collectors and trade professionals.
It has a reputation as an event that allows unrepresented or emerging artists to showcase their talent. But, while the formula of 'exhibitors' may be different, the event is the same as any major international art fair – and it has its demands.
ArtsHub catches up with Potkin ahead of the next Fair in Sydney this month. The London team will deliver their next edition of The Other Art Fair, 29 June – 2 July at West Handyside Canopy, Kings Cross (UK).
How would you describe what you do to a non-arts friend?
I would say, 'I run massive art shows for people just like you. I've pulled together a line-up of over 100 incredible independent visual artists, some installations, workshops, performances, DJs, food and a well-stocked bar to create a big, fun and relaxed arty party. So come along and check it out and maybe you'll discover you're not my non-arts friend after all.'
Such a big part of our mission for The Other Art Fair is to create an environment for the un-initiated. We have an independent selection process to carefully select high-calibre artists, so we very much cater to the serious art buyer, but we get just as excited by the prospect of inviting people along who may not have spent a heap of time perusing galleries and making them feel welcome and that they belong there.
Over the years I've got so much joy from inviting friends along who wouldn't deem themselves part of the art world, who have begun their journey with The Other Art Fair and gone on to build burgeoning art collections.
What qualifications do you need for this job?
There aren't really any specific qualifications you need for a role of this kind … either that or I'm entirely unqualified! But a background in events or project management can be really important.
How did you get your start in this career?
I began in magazine publishing, but producing a weekly magazine didn't ever give me the same joy that comes from live events. So I was lured into working for a large events company in my hometown of London. I was gripped by the thrill of having my hard work and effort come to life in such a visceral way.
My beginnings in the events scene were a world away from my work on The Other Art Fair. The first event I actually worked on was a pregnancy and baby expo so, in my early 20s and child-free, I somehow found myself an armchair expert on everything from breast pumps to baby carriers. After that I worked across a whole array of industries from classic cars, to luxury travel and interior design.
For a long time, events was my career and visual arts was my passion. I hadn't necessarily expected the two to collide, but when the opportunity to head up The Other Art Fair came along it was an opportunity not to be missed. I knew the Fair really well as a visitor and was well-placed to step in and head up the team.
And, although it may feel like there is some vast chasm between those early days and my life as Fair Director at The Other Art Fair, there is a throughline that connects the various iterations of events I've run, and that is the joy I take in creating events that help build connections. That has never been more true now I get to connect art lovers with exceptional visual artists.
How collaborative is this job?
Large-scale events truly are the ultimate collab. The Sydney-based team that run The Other Art Fairs in Australia consists of just three full-time employees, but we lean on the expertise, effort and creativity of countless people to bring a fair to life.
I get to work with so many incredible people, who are all fantastic at what they do and come from a whole cross-section of society. From the marketing partners who help spread the word, to the suppliers and contractors who build the event, venue managers who provide our temporary home, the event team and of course well over 100 hugely talented independent visual artists to create the biggest array of mini solo-shows for people to enjoy.
Every single one of them plays their part to make the event run smoothly and I get the job of connecting all the dots.
Read: So you want my arts job: Sculpture Festival Access Manager
What's an average week like?
The week can be really dependent on where in the event cycle we are. So a long way out from Fair I'll be doing more outreach to new prospective artists, pitching sponsors, setting up marketing partnerships, securing Fair content etc. Whereas closer to the event I'll be much more focused on liaising with contractors and suppliers, finalising safety documentation and logistics of the event delivery itself.
Reflecting on this question just now, it does make me realise that I miss the frequency of in-person meetings that used to take place in the before times (pre-COVID). So much of my week can be spent in a digital meeting room. Incredibly more efficient of course, but much less coffee and cake!
I'll generally spend three days in the office with the team and the other two at home. On the days I'm at home I'll try to make the most of the time spent not commuting by taking a morning stroll along the coast, or a game of beach volleyball is a great way to set me up for the day ahead.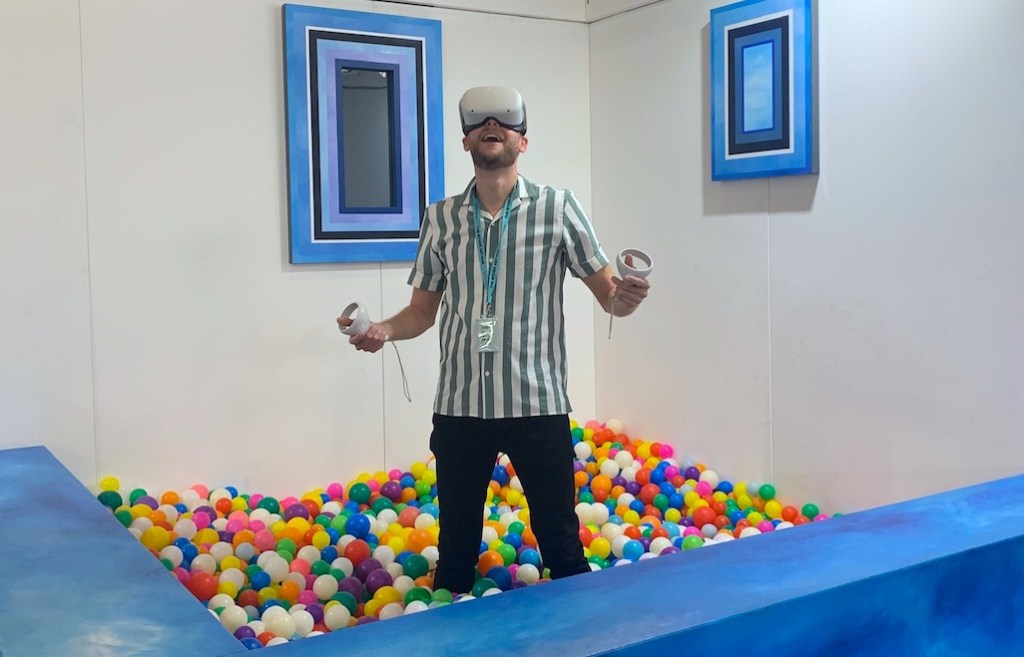 What's the most common misconception about your job?
I think the common misconception is probably the size of the team that it takes to run the fairs. We're small but perfectly formed!
The Other Art Fair is global, but we have local teams with a local focus. So we have a small team in LA, New York, London and then I head up the team in Australia.
When event time rolls round we bolster the squad with a whole troupe of supporting cast members. Contractors, cashiers, security, cleaners, DJs, bar staff, baristas and everything in between. Everyone is well-drilled and knows where they need to be and what they need to do. It's a sign of a well-oiled ship that it gives the impression we're a bigger team than we are, but it's all smoke and mirrors really.
How competitive is this job?
It is competitive to get a job as Fair Director of an art fair, primarily as there isn't a long list of jobs and organisations offering similar roles, and there are stacks of talented individuals working across the arts and events markets vying for the chance.
But while a lot of experience is needed to step into the role, much of that experience can be discovered in a host of different industries or roles.
In an interview for your job, what skills or qualities would you be looking for?
You definitely have to be a people person – you'll be interacting with such a variety of different people and in different ways too. Strong communication skills and a passion for the arts are absolutely essential. You'll need to be organised, creative, adaptable and good with numbers too. Plus, being calm under pressure … when you've barely slept all week and are entering your 100th hour of work that week.
Luckily there aren't many weeks like that, but a real key attribute is the ability to still deliver when the event is underway and you're running on empty. That's when being an extrovert comes in handy too, and by that I mean extracting energy from being around other people. When the event is underway you want to be pumping with adrenaline, not looking for the escape hatch.
What's changing in your professional area today?
Marketing forms a hugely dominant role in running events and it is a constantly evolving environment to try and stay abreast of. It feels like every year there is a new social media platform that we need to have a strong presence on and, of course, every platform has its own unique best practice to get cut-through.
Audiences are also increasingly fragmented and we all have shorter attention spans, so it is certainly a challenge. But that challenge just pushes you to be more creative in terms of how you capture people's imaginations with the brief time you have.
What's the weirdest thing that's happened to you in this job?
With over 10,000 people coming through the doors during the course of each edition of The Other Art Fair, there will always be something that will take you by surprise. One that springs to mind was when I was at our ticket desk one time, the next thing I knew a customer had draped a bright yellow snake around the shoulders of one of the Box Office team. She was much calmer about it than I was!
We had created an installation that involved a photography experience and the customer had wanted to have their photo taken with their beloved pet snake. Sadly, the photographer wasn't too keen on the idea, so the snake had to be left in the car while the customer enjoyed their time at the Fair.
What about gender balance in your industry?
We've seen the damning reports in recent years surrounding the underrepresentation of women and gender diverse artists in gallery spaces both close to home and globally. And while 70% of arts school graduates are women, there is still an underrepresentation of women in positions of leaderships in the cultural sector.
There is a lot of work being done in the sector to integrate diversity, equity and inclusion into how we program events and exhibitions, but inevitably it is not something that everyone gets right 100% of the time.
It is certainly something we strive to address and, if we look our next edition of the Fair, out of 130 exhibiting artists, 77 of them identify as women and five are gender diverse. Plus, of the four Fair Directors of The Other Art Fair (East Coast US, West Coast US, UK and Australia) three of them are women and Sarah Mellor was also recently appointed as CEO of Saatchi Art Group (our parent company).